Garavaglia Architecture, Inc. staff is getting geared up for CPF's 37th annual conference in Oakland starting in a week!  Our staff has been heavily involved in planning for the conference and wanted to highlight some of activities.
Pre-Conference Tours
Each year CPF has pre-conference study tours designed to highlight a workshops are intended to give a broad perspective on the history and current happening in the Easy Bay. Garavaglia Architecture, Inc., staff is participating in some of these tours including:
Rebuilding Community Through Urban Agriculture Thursday, May 3, 9:00 am–12:30 pm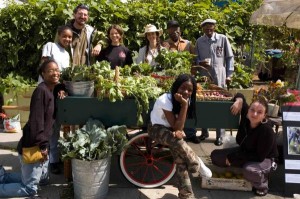 This half-day study tour will explore both the history and future of urban agriculture with a focus on Oakland's vital urban agriculture movement. We will explore how community-driven urban agricultural groups, soil remediation projects, and new zoning initiatives are reintroducing gardens and farming to older and historic neighborhoods. Join us as we visit City Slicker Farms, a working community farm in the West Oakland neighborhood and other community gardens to learn cutting-edge lead remediation work to reintroduce safe gardens and agricultural uses in Alameda County neighborhoods. Transportation provided.
Moderator: Sarah Hahn, Architectural Historian, Garavaglia Architecture, Inc.
Speakers: Jessica Blemker-Ferree, Architectural Historian, ICF International; Allison Vanderslice, Historical Resources Consultant; Barbara Finnin, Executive Director, City Slicker Farms; Steve Calanog, EPA; Birgitt Evans, Vice President, Alameda County Master Gardeners; Eric Angstadt, Deputy Director, Community and Economic Development Director,
Oakland and Ground-breaking Women at Three Restored East Bay Historic Houses T B May 3, 1:30 PM – 5:00 PM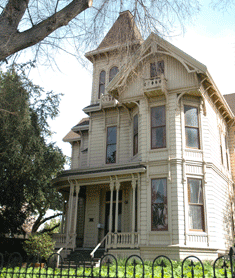 Historic house tour touts ground-breaking 19th century women professionals and exhibit restoration techniques used in three East Bay residences: 1876 Italianate Camron-Stanford House, 1884 East Lake Stick Cohen Bray House, and 1897 Colonial Revival Meyers House. Transportation provided.
Speakers: Frankie Rhodes, Board of Directors, Camron Stanford House; Robbie Dileo, Alameda Historical Society and Museum; Paul Roberts, Board of Directors, Cohen Bray House; Hank Dunlop, Board of Directors, Cohen Bray House; Patty Donald, Board of Directors, Cohen Bray House; Chris Lutjen, Garavaglia Architecture, Inc.
We hope to see you next week!