Join us at the California Preservation online conference from May 18-May 20, 2020!
Michael Garavaglia will be moderating two learning sessions on the following topics, based on the firm's real life experience: 
Wednesday, 05/20/2020, 10:30 AM – 11:30 AM
Where Form Based Code and Preservation Intersect
This dynamic interdisciplinary presentation introduces and applies form-based code methodologies and preservation planning principles (based on the Secretary of the Interior's Standards) to several project scenarios as viewed from the perspective of professionals in preservation architecture, form-based code planning, and an economist. The speakers will include brief introductions to the Standards and Form Based Code concepts and then lead a discussion of sample projects including additions to historic buildings, constructing a tall building next to a historic resource, infill issues, and considerations of adapting form based code in respect to the existing character of a historic district or neighborhood.
Moderator and Speaker:  Michael Garavaglia, President, Garavaglia Architecture, Inc.; Speakers:  Matt Kowta, Principal, BAE Urban Economics; Tony Perez, Director of Form-Based Coding, Opticos
Wednesday, 05/20/2020, 10:30 AM – 11:30 AM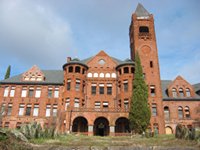 Design From Prison to Possibility: The Preston School of Industry as Economic Driver
The adaptive reuse and preservation of the 300-acre Preston School of Industry has aided a small community's effort to become a tourism destination. This session will highlight the non-profit Preston Castle's Foundation's stewardship of the property and the completion of a National Register nomination that addressed both the significance of the site and also acknowledged a complicated social history of the youth prison system. The potential of the property was revealed through economic feasibility studies and the identification of additional rehabilitation funding. The productive relationship between the community of Ione and tourism interests, paired with the identification of future economic and recognition opportunities, will be explored within this discussion.
Moderator:  Mike Garavaglia, Principal, Garavaglia Architecture; Speakers: Karl Knobelauch, President, Preston Castle Foundation; Jamie Armstrong, Executive Director, Amador County Chamber of Commerce