Garavaglia Architecture, Inc. was honored to receive three awards from the California Preservation Foundation in 2015. The awards represent different facets of our multi-dimensional practice which provides services to private and public clients across the state.
Marconi Conference Center Historic Structure Report, Marshall, CA
Our firm commissioned by California State Parks to evaluate the former Marconi Hotel, originally constructed in 1913. The HSR presents the historical context for the site, analyzes the building's historic integrity and conditions, and establishes parameters for reuse of the building. Special attention was paid to the Synanon era, which spanned the period that this fringe religious group was in residence at the site, and how that might represent an additional period of significance.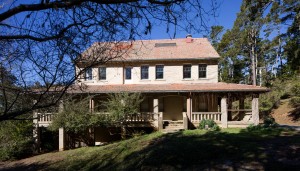 Palo Alto Rinconada Library Renovation, Palo Alto, CA
Our firm served as materials conservation and historic preservation consultants for the rehabilitation and upgrade of the Edward Durell Stone modernist building, constructed in 1958. Our primary consultation role was advising the design team on appropriate conservation and preservation treatments; and our Core Historic Structures Report helped to guide the rehabilitation process. Acting as an independent entity, we determined the proposed project's level of impact on the historic integrity of the Palo Alto Main Library and surrounding landscape.
Bourn Mansion, San Francisco, CA
Our firm provided architectural preservation services during an initial consultation with the City of San Francisco for this stately brick residence, located at 2550 Webster Street in San Francisco. The building is registered as San Francisco City Landmark #38 and is historically referred to as the Bourn Mansion, as it was built by William Bourn in 1896. A new owner sought to rehabilitate and upgrade the structure while maintaining its historic fabric. Our early guidance helped to guide the process in preserving this Pacific Heights gem.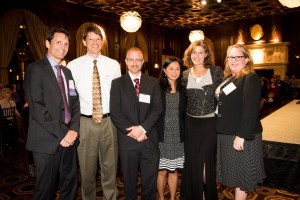 These prestigious awards are given every fall by the California Preservation Foundation, a non-profit group which provides statewide leadership, advocacy and education to ensure the protection of California's diverse cultural heritage and historic places. Garavaglia staff attended the awards banquet held in the iconic Julia Morgan Ballroom at the Merchants Exchange Building in downtown San Francisco for an elegant evening of celebration. Principal Michael Garavaglia was on hand to accept the awards for our firm.