Lorenz Hotel Re-Opening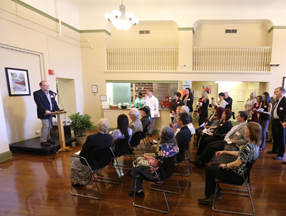 Our firm was honored to attend the re-opening ceremony for the Lorenz Senior Apartments in Redding, California on February 19, 2015. The Beaux Arts–style structure — originally a hotel built by Susan Lorenz, widow of gold-mining magnate Henry Lorenz — is an important part of Redding's history and has served the community for over 100 years.  We began work in 2010 on the 1902 historic unreinforced masonry hotel project to create upgraded, affordable senior-housing units.
GA  prepared a successful National Register nomination for the hotel, as well as the multi-part federal tax credit application. The rehabilitation transformed 78 dated residential senior-housing units without kitchens into 60 studio and one-bedroom units with full kitchens. This work included completing seismic upgrades and updating all mechanical, electrical, and plumbing systems for the building. The project's complex mix of requirements included following the Secretary of the Interior's Standards, maintaining strict funding source requirements, completing a Probable Maximum Loss analysis and a Capital Needs Assessment, and maintaining senior-resident occupancy while phasing construction.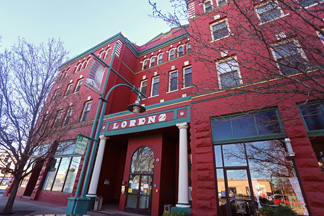 2015 Palo Alto Preservation Awards
Garavaglia Architecture received two awards for our historic preservation work from Palo Alto Stanford Heritage on the Rinconada Library and the Forbes House, both located in Palo Alto, California. Principal Michael Garavaglia attended the ceremony at the ballroom of the Lucie Stern Community Center on May 10, 2015.
The Rinconada Library, constructed in 1958, was designed by modernist architect Edward Durell Stone. The iconic building underwent a 4,000 sf expansion as well as a new program room for the library, group study rooms, and new public restrooms. We advised the design team on appropriate conservation and preservation treatments and completed a core historic report that guided the rehabilitation process. The report included treatment recommendations for the steel sash windows, molded plastic light lens that comprised the luminous ceiling — a major architectural feature — and masonry brise soleil repair.
The Forbes House at 564 University Avenue is a colonial style house that served as a single family residence and a rooming house. The historic property had been partially deconstructed with the removal of most exterior finishes, details, windows and hardware. Our work provided recommendations to restore the building to its former condition using original materials, which resulted in a Category 2 on the Palo Alto Historic Building inventory.
California Preservation Foundation Conference
Principal Michael Garavaglia and Project Manager Ambrose Wong visited the 2015 California Preservation Conference in San Diego on April 29 – May 2, 2015. Held in San Diego at the Naval Training Center at Liberty Station, the conference is a networking hub for historic preservation professionals in the Golden State. Conference highlights included pre-conference workshops focused on the California Historical Building Code, plaster casts, and disaster planning, as well as tours of local landmarks and special events.
Mr. Wong attended breakout sessions at the conference to become a certified  Safety Assessor volunteer with the California Governor's Office of Emergency Services. If needed, he may be called upon to evaluate buildings in the aftermath of a disaster. Congratulations Ambrose!